John Nemerofsky, President of CGL Technologies recently had the opportunity to sit on a panel at ISC West 2018. The panel discussion was entitled  "The Great Sensor Debate: The Truth About Smart Cities, From Success to The Dark Side of Automation Going Wrong."  The panel discussion covered various topics regarding physical security, cybersecurity, the Internet of Things, and privacy concerns.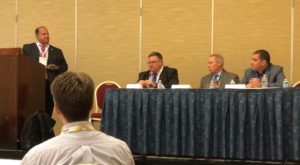 So, what is an Internet of Things data sensor? Simply stated its any device that is connected to the internet and used to collect and share information or data. The information is then used to monitor a specific activity and trigger an action based on a predefined process, policy or procedure.
Data sensors are in all types of devices that connect to the internet and monitor anything from the temperature in your house to security devices that are monitoring our critical infrastructure. The use of data sensors is changing how we manage our daily lives on a personal level and how we build smart cities that manage automated systems that can control traffic, lighting, life safety systems, and various system automation.
The problem is that the Internet of Things is growing faster than most cities, businesses, and institutions can develop the necessary safeguards to ensure how the devices are deployed, secured, and maintain. Individuals may not be concerned about the data being collected or shared on their Fitbit or Apple Watch. However, security professionals should be concerned about any data being collected and shared on devices deployed to protect various assets.
When it comes to managing our security systems we expect that the manufactures, security integrators, and system administrators will provide strong cybersecurity measures. But, even with strong physical security measures and cybersecurity measures put in place, we still have to be concerned with human error and our inability to ensure individuals follow established policies and procedures.
So, what can we do to secure data sensors, devices, and collected information? Start with the simple things like changing default passwords, developing strong internal/external IoT deployment policies, and by keeping software and firmware up to date. Additionally, promote an environment where cybersecurity policies are strictly enforced, risk assessments are conducted on a regular basis, and training is an ongoing priority.
Interested in learning more about how to best protect your business, organization or institution contact CGL Technologies at https://cgltechnologies.net/contact-us/
ISC West – The International Security Conference & Exposition – also known as ISC West – is the largest event in the U.S. for the physical security industry, covering Access Control, Alarms & Monitoring, Biometrics, IP Security, Video Surveillance / CCTV, Networked Security Products and more. You can learn more about ISC West by visiting their website at http://www.iscwest.com/
John Nemerofsky – President of CGL Technologies, a franchise model that focuses on optimizing business and sales processes while partnering with clients and manufacturers to drive growth in key security market locations.  Learn more about CGL Technologies at https://cgltechnologies.net/